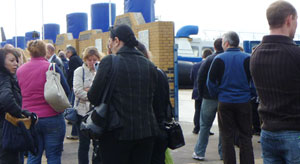 Booking a Foot Passenger group could not be easier. Simply contact us with all your requirements and our dedicated Group advisors will take care of the rest.
AFerry Groups have successfully organised all types of Foot Passenger Groups from a smaller gathering of friends or family to large Clubs, Schools and Universities from all over the world.
If you have a Group of 10 or more Foot passengers, we will check the availability on the required sailings and arrange the space even the on board accommodation and meals for your Group if applicable.
In most cases all you will require to travel is a single operator booking reference number which will be emailed to the individual who makes the booking; this can be printed out and taken to the port when the group travels, so only one person is needed to check-in the whole group. This will make boarding a stress free process and save your group time.
When you arrange your Group Ferry Travel with us you will have a single point of contact to deal with your booking to ensure you receive a dedicated service throughout. Our experienced Groups Consultant will look for the best possible pricing, accommodation if required, Port arrangements and provide you with any information you may need, only an email or phone call away. It's Group travel the easy way!
Simply email mail@aferrygroups.com or complete the quote request form on the left of the page and leave the rest to AFerry Groups!