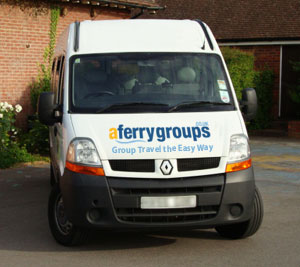 If your group are travelling by minibus, our friendly team can help you find the best routes and prices to get you to your destination.
Our team are experienced in finding travel solutions to suit both your budget and your itinerary and can offer advice on ways to keep the cost of your trip down without compromising your groups enjoyment. We can also assist in pre-booking your on-board meals which will often save you money on on-board pricing.
At the time of booking we will not require any information about your group aside from the dates and routes you wish to travel on and the number of passengers in your group. No passenger names will be needed for group until 8 weeks prior to departure with some operators not needing this information until much later giving you the flexibility to make last minute changes to your group without penalties.
When you book with AFerry Groups, you will have a single point of contact within the team who knows you and your booking. Your dedicated travel consultant will be available by both email and telephone to assist you with any queries you may have. It's Group travel the easy way!
Contact us on +44 (0)844 576 8845 or mail@aferrygroups.com.